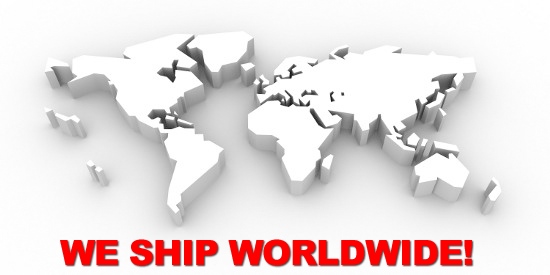 ORDER CONFIRMATION
We ship worldwide to every country in the world
Our aim is to get your purchased items to you as quickly as possible, at the cheapest price possible.
The item is shipped after payment is cleared.
Shipping costs are calculated according to the weight of your items purchased.
The default shipping service we use for the shopping cart, is the post office airmail recorded delivery.
This system provides a tracking number for most countries.
For safety reasons, some countries are exempt from this service.
Please check below for our delivery option for your country
We do combine shipping for multiple items purchased.
Shipping cost of your purchase can be seen once checkout is initiated. .
All orders are dispatched from Europe
Default service is the post office airmail recorded delivery
Countries exempt from postal system are all Middle East Arabic countries, all Latin american countries, Bulgaria.
For the countries above, we have alternative delivery service, please read under delivery options
.
DELIVERY OPTIONS
Default delivery service for the shopping cart
Delivery time for all EU countries (except for Bulgaria) and eurozone countries is 5 – 14 days (excluding weekends and holidays).
Delivery time for countries outside Europe is 14 to 21 days (excluding weekends and holidays)
Countries excluded from standard delivery service
- Latin American countries , the service we use is UPS, please send us an email for item(s) you wish to purchase to get a quotation.
- Middle East Arabic countries we use FedEx international express service, please send us an email for the item(s) you wish to purchase to get a quotation.
- Bulgaria we use EPG which ships for a minimum of 1kg at 17.50 €
Express Delivery Services.
If you need your order for a specific date, or faster than the delivery times we have indicated, please send us an email to arrange your order with an alternative service and to get a quotation.
For EU we suggest EPG, FedEx, TNT.
For USA, Canada we suggest FedEx, UPS.
For all other countries we suggest FedEx, EMS, UPS

RETURNS AND EXCHANGES
Vestibulum justo. Nulla mauris ipsum, convallis ut, vestibulum eu, tincidunt vel, nisi. Curabitur molestie euismod erat. Proin eros odio, mattis rutrum, pulvinar et, egestas vitae, magna. Integer semper, velit ut interdum malesuada, diam dolor pellentesque lacus, vitae commodo orci nisi et sem. Pellentesque adipiscing nisi. Nulla facilisi. Mauris lacinia lectus sit amet felis. Aliquam erat volutpat. Nulla porttitor tortor at nisl. Nam lectus nulla, bibendum pretium, dictum a, mattis nec, dolor. Nullam id justo sed diam aliquam tincidunt. Duis sollicitudin, dui ac commodo iaculis.
Nulla ornare. Nulla libero.
Donec et mi eu massa ultrices scelerisque.
Nullam ac nisi non eros gravida venenatis sollicitudin lobortis